The opening ceremony of the 2022-2023 Kazakhstan leg of the Women's Grand Prix was held this evening at the Astana International Financial Centre.

Pending the President's discretion, the capital Nur-Sultan will very soon be renamed back to Astana, after yesterday's Parliament session endorsed the draft law on the constitutional amendment.

Side by side in the front row with the authorities, arbiters and other officials, eleven of the twelve players – India's Vaishali hadn't arrived at the time – enjoyed a series of traditional dances and musical performances that enlivened the 30-minute evening ceremony.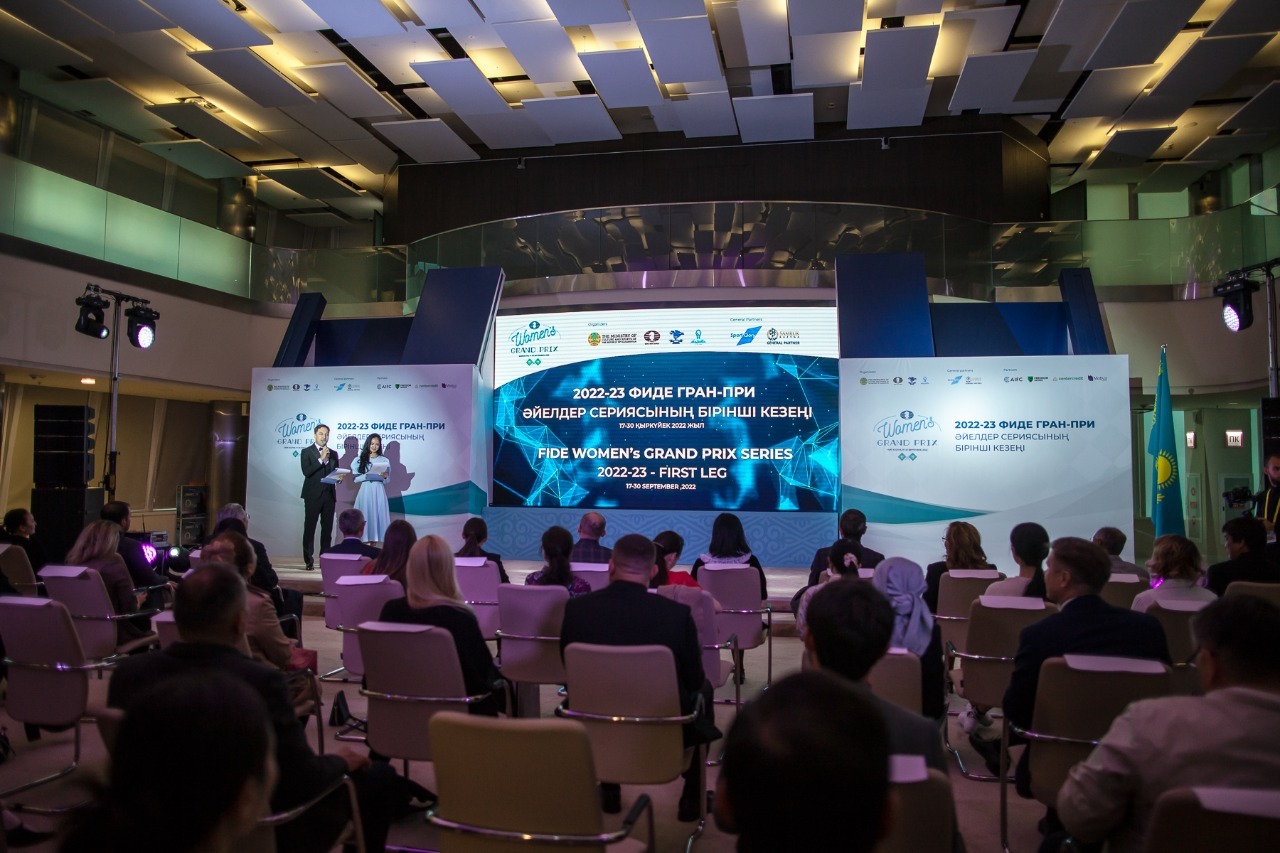 The Minister of Culture and Sports of Kazakhstan, Dauren Abayev, welcomed all the participants to the Nur-Sultan Gran Prix, and thanked FIDE for the opportunity to organize the tournament with the two best Kazakh players.

Balgabayev Berik, adviser to the FIDE president, read a welcoming letter from Arkady Dvorkovich himself. "It's not the first time that Kazakhstan has become the host of top chess tournaments, and I am fully confident that the Grand Prix will be held at the highest level, and will be the force of continuation of chess traditions in the region".

The President of the Kazakhstan Chess Federation, Khusainov Galim, expressed his gratitude to all the members of the event, with special thanks to the Ministry of Culture and Sports for their ongoing support. He also manifested that one of the aims was to showcase their national traditions and customs.



Finally, the chief arbiter of the event, IA Hamid Bin Abd Majid, took the stage, with one of the most applauded sentences of the night. "It's a great honour for me to be here. It seems quite appropriate for Nur-Sultan to be the host – Minister, you have a really beautiful city!"

After the inauguration, the organizing team met up with the players to go over the rules and regulations and answer any relevant questions in preparation for the first round, which will start on September 18th at 3pm. As per rules, players of the same federation will face each.



There is no doubt that the clash between the two Kazakh players Assaubayeva Bibisara and Abdumalik Zhansaya will be one of the highlights of the day. Another very interesting game will be the encounter between the two Chinese players: Zhu Jiner defeated the world's number one women player Hou Yifan a few days ago in the Chinese League.

Round one pairings
Goryachkina Aleksandra 2579 (FID) – Shuvalova Polina 2510 (FID)
Lagno Kateryna 2547 (FID) – Vaishali R 2449 (IND)
Kashlinskaya Alina 2491 (POL) – Kosteniuk Alexandra 2521 (FID)
Assaubayeva Bibisara 2443 (KAZ) – Abdumalik Zhansaya 2503 (KAZ)
Tan Zhongyi 2525 (CHN) – Zhu Jiner 2464 (CHN)
Wagner Dinara 2358 (GER) – Paehtz Elisabeth 2477 (GER)